Product Description
As the preferred and official supplier of intercoolers to Mini Challenge, we are proud to present our intercooler for the Mini JCW F56 Chassis (2014-on).
As the originators of the stepped core design way back in 2006, we were best placed within the market to call on our vast expertise in order to deliver a direct fit intercooler that would enhance the performance potential of the BMW Group 2.0 petrol turbo engine.
Our core offers a 31% increase in frontal area over stock (BMW Part no.17517617600) and a correspondingly large increase in volume of 41%.
Our end tanks are cast aluminium, made from 3D printed prototypes that we manufactured ourselves in our dedicated R&D facility in Gloucester, UK. The bar and plate design we have used comes after months of testing different core designs and opting for the core with best internal and external airflow.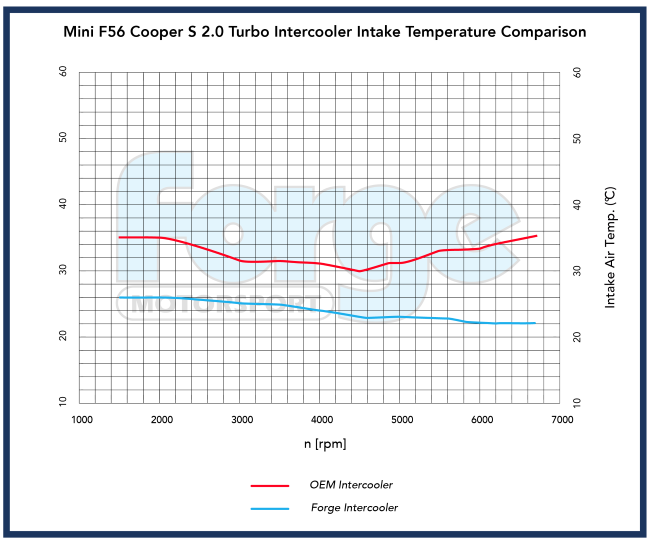 Official supplier to Mini Challenge
The Forge F56 JCW intercooler gives a respectable 31% increase in frontal area over stock and a correspondingly large increase in volume of 41%
The Forge F56 JCW Intercooler leaves the opposition behind yet again being the first to market
The Forge development team have used Solidworks software to improve the OEM end tank design, making the Forge cast version a much freer flowing and efficient unit
Testing and flow analysis has made this product a clear market leader
Pressure drop under 1 Psi.
This product is designed, developed and manufactured entirely in Great Britain and is covered by our lifetime warranty.
Cancelled Orders 
Any items ordered then subsequently cancelled by the customer before delivery will incur 10% handling fee and will receive the remaining balance within 14 working days
Do we ship abroad ?
Yes we do, to almost anywhere in the world though remember the postage is often high when shipping anything bulky. Most bulky items we export will go by UPS so you can track the package online, Delivery times vary due to stock and import checks.

However there are a few countries we do not ship to, some of these include: Thailand, Malaysia, Indonesia, Russia, Nigeria, Macedonia, Syria, Ukraine, Lebanon. 

Why is postage on bulky items to some countries expensive compared to some other companies ?
For both yours and our safety we use well known couriers such as DPD Local and UPS for shipping, then we know exactly where it is in the world at any time and we know its going to arrive safely. We can now ship using standard post on some items, however using all methods you may incur import charges when you receive the goods for which we cannot be responsible for. 

How do I place an order if I live within the UK ?
You can either order here in our online shop or you can phone us or email us, using the following number/address are below.
Phone: +44 (0)1945 429000
email: maxtremestore@hotmail.com 


How do I place an order if I live outside the UK ?
You can order online or by phoning or emailing us.
Phone: +44 (0)1945 429000
email: maxtremestore@hotmail.com
Yes we offer free fitting on most Milltek Catback systems, Just select the option at the checkout
No, Due to our Public Liability Insurance we do not fit any customer supplied parts.
.
Yes depending on how long the job will take and if you are happy to wait, We have a waiting area inside our reception
Yes, But please be aware most exhaust systems will not fit in the back of the car it is being fitted to! We will help cut the exhaust into sections to aid you taking the system back with you. We allow 7days for collection of your old exhaust, after this time we will dispose of the system.